World Art Co. was founded by David Nelson and Brooks Tuttle. The Company produced acclaimed theatrical and performance works in the 1980's and '90's in Dallas, Texas including "Women Behind Bars," "Chez David," and two Shakespeare in the Parking Lot productions, "Taming of the Shrew" and "Midsummer Night's Dream."
After Brooks' death in 1996, David began to pursue his long time interest in making films. He had already worked as an art director on several short films and many commercials.

In 1999, he began working on "I am Scorpio" with Mary Hestand, a friend and filmmaker, to whom he had been describing the film for over 10 years.
Below is some further information about World Art Co. founder, David Nelson, and his collaborator, Mary Hestand.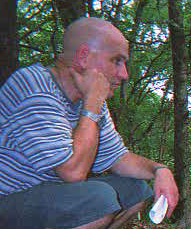 David Nelson
David has worked on numerous film and video pieces as director, production designer, and art director. He directed the videos "Hatmospheric Perspective" for the performance artist and filmmaker Drew Bird, and "French Music and Convertible Dresses." David lived in New York City from 1984-1990 where he focused on production design for many theater and performance venues, including the Wooster Group, The Kitchen, La Mama, the Harold Clurman Theater, and the Public Theater. David worked on the Wooster Group's video for their theater piece, "Frank Dell's The Temptation of St. Anthony," and their movie "White Homeland Commando" by Michael Kirby. He worked as an art director on many commercials for clients including Ragu and Duracell batteries. Other credits include production design on "He Was Once" and art direction on "Dog," two short films by Mary Hestand; "666," directed by Mary Katherine McMahon, which took top honors at the Houston International Film Festival and has been seen on Showtime Cable; and "Starlings," directed by Tabitha Allen. Most recently David wrote and directed "I Am Scorpio," his own version of the Greek myth of Narcissus, the young man who fell in love with his own image. "Scorpio" premiered at the Dallas Video Festival.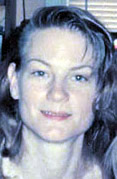 Mary Hestand has a Master of Fine Arts in Directing for the Theater from Columbia University in New York City. She began working for The Wooster Group, an experimental theater company whose members include Willem Dafoe and Spalding Gray, while still at Columbia. Mary performed with the company in "Frank Dell's The Temptation of St. Anthony" on tour and at the company's headquarters in New York, The Performing Garage. Her first 8mm film, "Magical Thinking," earned a grant award from the New York Foundation for the Arts. Her second film, "Automythologies" was shown at the Collective for Living Cinema as part of the New Filmmakers Series. In 1988, Apparatus Productions, a film production company formed by Todd Haynes (Far from Heaven, Velvet Goldmine), Christine Vachon (Hedwig and the Angry Inch, Boys Don't Cry) and Barry Ellsworth (Poison) chose to produce "He Was Once," a short film Mary wrote and directed inspired by the "Davey and Goliath" cartoon series. "He Was Once" was shown at the Sundance Film Festival, the USA Film Festival, on the Learning Channel, and on WNET Channel 13 in New York as part of the "Reel Life" Series. After returning to Texas in 1992 to raise her young daughters, Mary teamed up with Molly Shepard and Lin Hughes Gold to produce and direct "Dog," a short film about peer abuse and teen suicide. Partially funded by the Irving Television Network, "Dog" was shown at the USA Film Festival, on ITVN and on Frame of Mind on KERA Channel 13. Mary was Associate Producer on "Of Two Minds," produced and directed by Mark Birnbaum, a recruiting film for the physician scientist training program at U.T. Southwestern Medical School. "Of Two Minds" was a finalist for the Telly Awards, a national competition honoring outstanding non-broadcast video and film production. Mary co-produced "I Am Scorpio" with her long time friend and collaborator David Nelson; "Scorpio" premiered at the Dallas Video Festival in March of 2000 as part of The Texas Show. Mary recently finished a music video for the band the Butthole Surfers with her husband, Alan Tubbs, which will be seen at the Dallas Video Festival in March.