Our original destination, the Silver Spur Ranch, had a little mishap with their reservations system (i.e. the owner forgot to write our reservation down) so we moved across the road to the Running R Ranch, run at peak efficiency by Iris and Ralph Kirchner. The "road" just outside Bandera is lined with guest ranches, which made finding the Running R at 1:00 a.m. (when the Hestand-Tubbs clan arrived) quite a challenge! We saw lots of deer and jackrabbits while we searched though, which made it more fun.
The next morning there was a trail ride at 8:00 a.m., or if you couldn't get your boots on in time, a walk to breakfast. Breakfast was on a hilltop with a lovely vista of the South Texas countryside. We had eggs, hash browns, bacon, grits, orange juice and lots of coffee.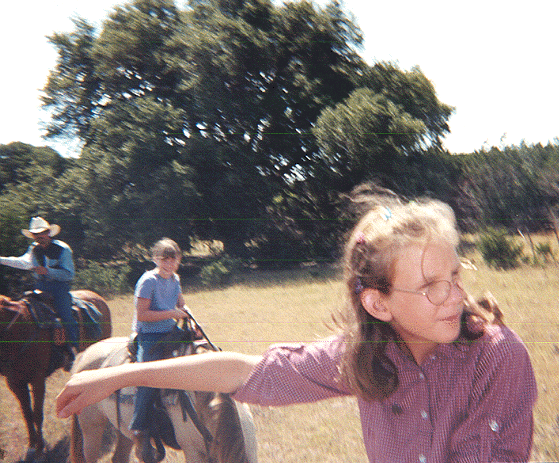 Sydney and her posse, Arran and Dwight, the Wrangler.
There was a second trail ride at 10:00 a.m. and some cowpokes and horse lovers (i.e. Shari and her kids) went on both hour-long rides. Our trusty steeds were patient and in no particular hurry, which gave us plenty of time to enjoy the flora and fauna - not to mention Dwight the Wrangler's jokes. Don't worry, I won't repeat any of them here - you've already heard most of them anyway even if you didn't go on the trail ride.
Arden saddles up for a speedy getaway on Bandit.
By the end of the second trail ride, it was getting a mite warm, so we decided to head for the pool.